Office 2013 Consumer Preview Released
Microsoft announced the Consumer Preview of its Office 15 productivity suite, which will be known as Office 2013 when it reaches the market.
The Consumer Preview is a somewhat radical redesign of the traditional Office suite. Just as Office 2007 was a rethinking of the software's user interface, so too is Office 15. The 'Metro' design aesthetic is quite present. At first glance, the new look is clean, and presentable. Microsoft is preparing both a traditional desktop version of the software, and one for tablets that run on ARM chips. Office 15 is designed to allow for touch inputs, much more so than any former version.
Along with discussing the new Office, Ballmer discussed the upcoming release of Windows 8 for the desktop, as well as Windows Phone 8. It looks like the company is getting its ducks in a row.
Office 15, along with Office 365, are Microsoft's combined vision on how to both continue its dominance of desktop productivity software, while paying attention to the cloud. It seems likely that come the future, Microsoft's solution and desktop solutions will merge, becoming a unified offering. 
Microsoft is now describing Office as a service, but something that will remain as an application. Microsoft describes the code as the most ambitious release of the code to date.
Microsoft's automatization tool for Android Phones
Point of Views.
100% of Apple fans: "Microsoft stole the idea of tablets". Admit, who copied who?
Canonical partners with Microsoft to support Ubuntu on Azure
Canonical partners with Microsoft to support Ubuntu on Azure
Microsoft revealed yesterday that its Azure cloud computing service is extending support to the open source Linux operating system. And in a blog entry this afternoon, Ubuntu founder Mark Shuttleworth announced that Canonical is working with Microsoft to support the popular Ubuntu Linux distribution on the Azure platform.
Canonical will supply official Ubuntu images for Azure and will provide its commercial support services to customers that are deploying Ubuntu in Microsoft's cloud. After an Azure update that is coming in the fall, users will be able to purchase a Canonical support contract directly through Microsoft's Azure Gallery.
Cloud computing is an important market for Canonical, which has been trying to boost its visibility in the server market. Canonical has recently focused on increasing Ubuntu's suitability for adoption in cloud environments with projects like the Metal as a Service provisioning tool and the Juju service orchestration framework. The company has also worked to build a presence in private clouds by working to support OpenStack and Eucalyptus.
It's unsurprising that Canonical is trying to get a good foot in the door for Ubuntu on Azure. Microsoft will also benefit from having partners in the Linux ecosystem as it works to make Azure a competitive offering compared to the cloud services offered by rivals such as Amazon.
In a blog entry about Canonical's partnership with Microsoft, Shuttleworth described Azure as an "impressive new entrant" in the hosted cloud computing market. He also praised the Azure team, saying that they possess a "sophisticated understanding of Ubuntu and Linux in general."
Siri, what is the best smartphone ever?
When iPhone 4S owners ask Siri which smartphone is the best ever made, the obviously disgruntled virtual personal assistant responds saying it's the Nokia Lumia 900 4G running on AT&T's network. It goes further, stating that the Cyan-colored Lumia 900 stands above all others.
Although it may seem a bit odd that Apple's own service would recommend another phone, it actually makes sense. Siri looked for the answer on Wolfram Alpha, which points to the Lumia 900 when users type in "what's the best smartphone ever?" The high rating is delivered based on "customer review average" across the Web.
The Lumia 900 is certainly no slouch. CNET's review of the device gave it four stars out of five and deemed it "excellent." CNET reviewer Jessica Dolcourt called the Lumia 900 her "favorite Windows Phone yet."
So, this is a SuperMegaFail for Apple!
Apple vs Microsoft
Microsoft: gives Windows 8 trial for free, to everyone.
Apple: gives MacOs 10.8 trial for payment, to a selected group.

Who is better?
Windows 8 Consumer Preview available for Download
Finally, Microsoft released the new OS for this 2012!
Here you find the direct link to the ISO (free for downloading):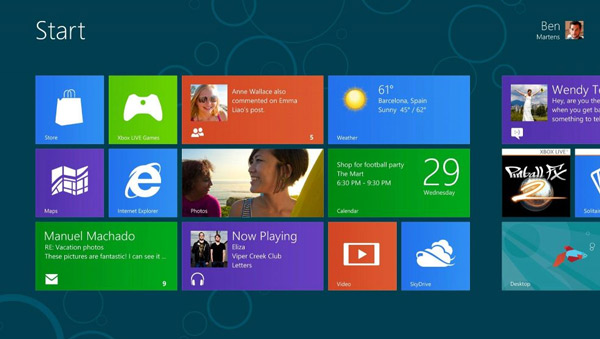 I report also the headlines about it:
From the second you turn on the tablet, Windows 8 looks dramatically different from Windows of the past.

The entire experience is centered on the Start screen, which is home to colorful "live tiles" or apps. The tiles themselves are a lot like the ones on Microsoft's Windows Phone; they will refresh with content from within the app. For instance, if you are connected to the Internet, the weather tile will display the current temperature.

If the Start screen is the heart of Windows 8, the apps are the blood to keep it pumping. Microsoft will be rolling out its store for purchasing apps with the beta version of the operating system, but it wasn't available as I was writing this review.

The Consumer Preview does come with 19 core Microsoft apps, most of which have been totally reimagined. Mail, Messaging, Bing Maps, People, Photos, Music and Weather are just a few that decorate the Start screen. All the apps have been designed with Microsoft's "Metro UI" design language, which give them a new clean and polished look. Similar to the iPad, the apps take up the full screen.

Below are thoughts on some of Microsoft's own apps.

Mail - Similar to the iPad and Android tablets, you have a two-pane view with your Inbox on the left and messages on the right. You can easily change the font, font color, and insert a large variety of emoticons into your message.

People - Here you can sign into your Twitter, Facebook, Google, Microsoft Live accounts (MacOS offers only Twitter) and message your friends and check their statuses. It's not a very versatile, but it is a nice portal for keeping tabs on all your friends. 

Music/Video - Microsoft has integrated its music and video stores into the core of Windows 8. The stores weren't up and running while I was testing, but the layout of the apps is very simple to navigate.

One of the most exciting preloaded apps is Xbox Live Games. While the store wasn't up and running on my tablet, I was able to try a version of Pinball FX2.

As you may have guessed, a new version of Windows means a new version of Internet Explorer. However, there are two versions of the web browser in Windows 8, which I find confusing.

If you are on the Start screen you will see a shortcut to a Metro-styled version of Internet Explorer 10, but if you are on the traditional desktop you will get a desktop version. Beyond looking different, the new version doesn't support Flash and was built more for touch input.

So, will billions be willing to make the leap to a Windows that looks nothing like the Windows they have known? Microsoft still has to convince us of that when it's final version is ready to roll out, but if you're tech-savvy enough to install the operating system on your own, it's surely worth a try today.
Windows 8 Consumer Preview announced
Here we are! At 15.00 UTC+1 time, will be announced at MWC2012 the new Windows 8 Consumer preview: a fresh release of Microsoft's Operating System for pc and tablets. The fight of OS is already started
Stay tuned!
iPad3? Thanks Apple, but i wait Windows 8
In these days Apple announced the event on 7th March for showing the brand-new iPad, called 3 or 2S. Faster than the previous generation, with better camera and a bigger monitor resolution. That's cool, and then? 
I have my iPad2 but, honestly, i can't still find a way for using it for work. I just downloaded some games and video-streaming apps. Personally, once i've seen Windows Phone 7 and then the Developer Preview of Windows 8, i don't like iOS anymore: too simple, too "old" in its graphic environment, without a real innovation, but the notification center. 
It seems like Apple is now just holding the position of leader of the mobile market, introducing only little new features (example: in iPhone 4S, the additional and innovative feature is just Siri). But the competitors are growing fast.
Android tables are cheaper and good as iPad already (Acer Iconia and Asus Transformer are wonderful), Windows' MarketPlace is growing up and now counts 1,5 million of apps (in November 2011, they were 300.000!).
And yes, i'm sure Windows 8 powered tablets will be good products, because of Office Integration, SkyDrive storage service, Metro UI. So, i think it's worth to wait the new generation of these tablets and jump the iPad3 :)